Celebrate the Unsung Heroes of Healthcare during National Nurses Week May 6th-12th. Nurses have touched all of our lives in one way or another! It's not the Doctor, it's not the surgeon; it's the nurse that you have contact with the most when in the hospital or other medical office.
Ask anyone and they'll tell you about their hospital experience but how often do they tell you about their nurse? Tucson Medical Center wants to salute their fabulous nurses at this very important time. Please join us as we sing the praises of these fine medical professionals!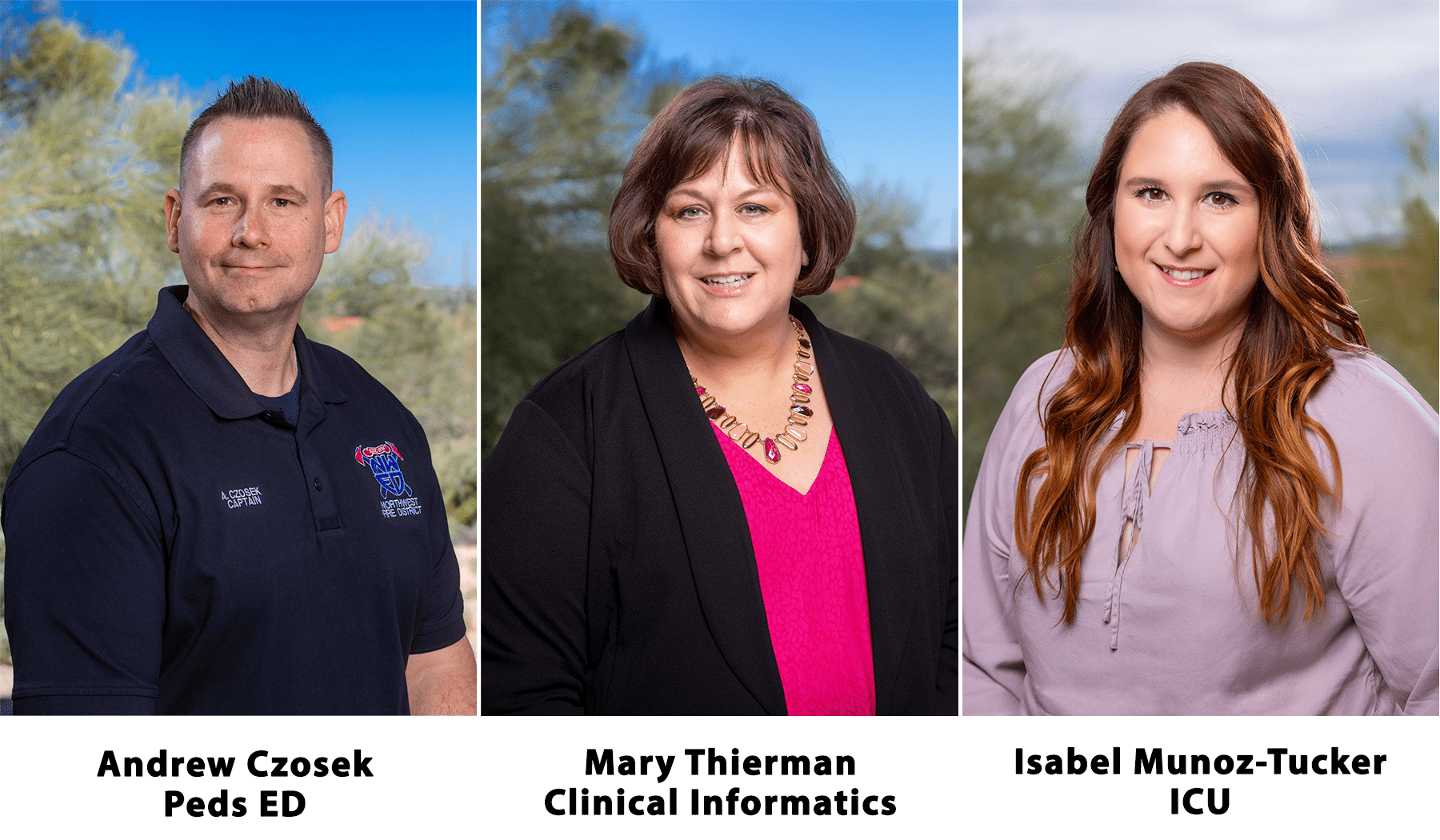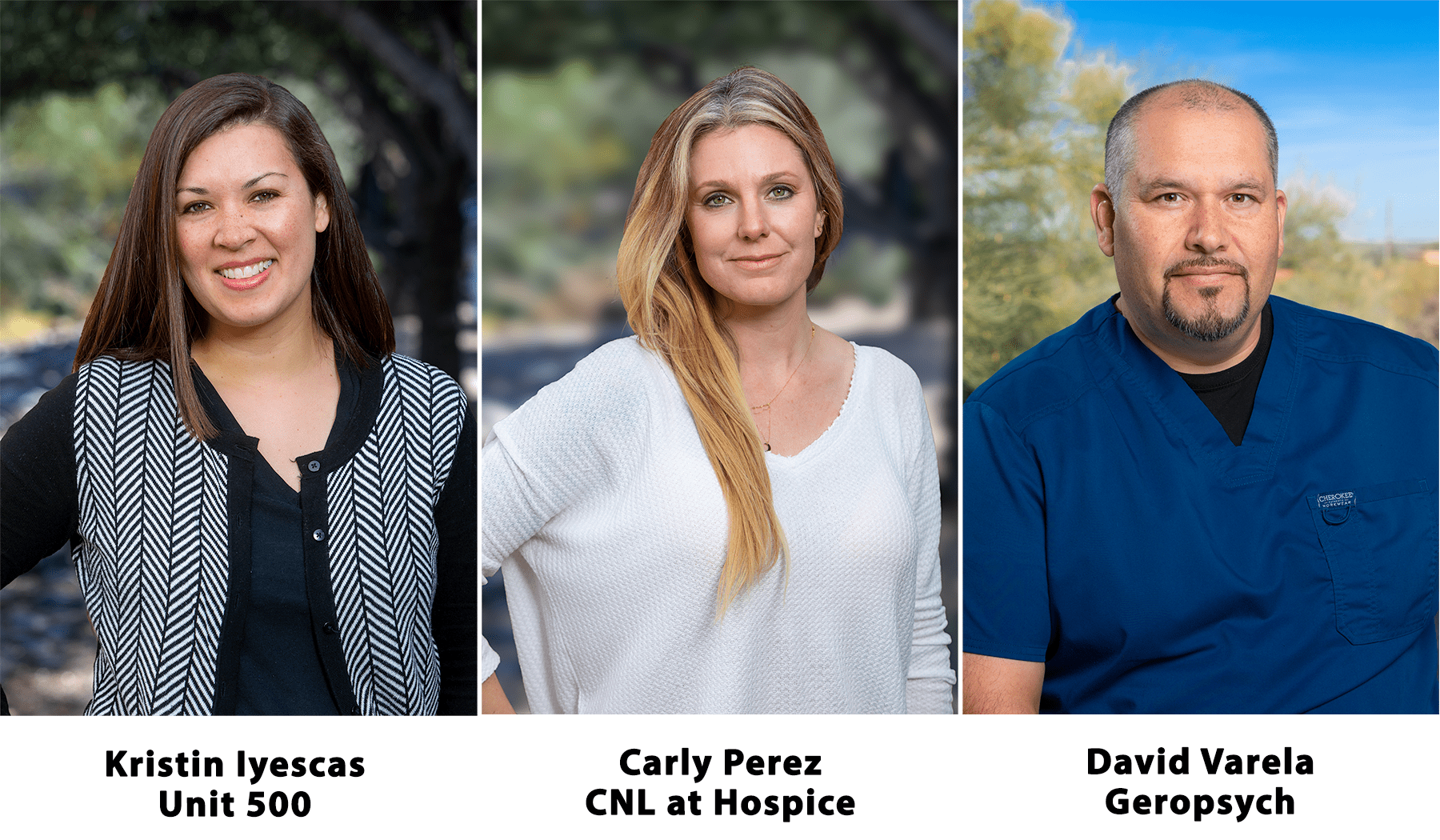 Andrew Czosek.

If there was one word to describe Andrew Czosek, it would be driven.
He serves as a nurse in the Pediatric Emergency Department at Tucson Medical Center, and as a Fire Captain Paramedic with the Northwest Fire District. Prior to that, he served in the United States Air Force, was a paramedic and was as a TMC patient care technician. Czosek had always been interested in emergency medicine and wanted to make a difference in patient care. He enjoys the process of helping patients get better, and educating them on managing their health after being in the Emergency Department. As a nurse, Czosek focuses on reducing patient fear through education and understanding.
"My favorite thing is problem solving and educating kids, parents and families to put them at ease," he said. "In my area of specialty there is a lot of fear, so I do everything I can to calm down the fear with facts and education focusing on prevention. A lot of my focus at the Fire District is also on education and helping others learn how to respond and react to emergencies. There is a science behind it and it takes practice." To do provide that education, he tailors his approach to each patient, rather than taking a one-size-fits-all approach.
"It is our job to help patients understand the best way we know how," he said. "You have to be creative." Czosek has been a nurse since 2013. He received his Bachelor of Science in nursing from Grand Canyon University, his Certificate of Emergency Nursing and achieved Fire Captain in 2016.
"Nursing and paramedics have greatly impacted my life," he said. "Both go hand-in-hand with what my passion is – resuscitation and resuscitation process. I love interacting with patients and applying the nursing process to both careers in order to help the people of our community."
Czosek's drive and dedication have earned him recognition as a 2020 Fab 50 Nurse.
Congratulations, Andrew, on being nominated and recognized as one of Tucson's Fab 50 nurses.
Mary Thierman. 
For Mary Thierman, being a nurse is about making things better.
As a small child, she watched her mother care for her grandma, and always found a way to get her "two cents" in and help.
Helping her grandmother is what ultimately drew her to a nursing career that has spanned 38 years.
At the bedside Thierman spent the first 28 years of her career at the bedside in Tucson Medical Center's Newborn Intensive Care Unit. "When I was at the bedside with premature babies, I wanted my little people (my babies) I took care of to be as comfortable and safe as possible in order for their parents to trust us and feel comfortable and confident in the care being given. Imagine handing over 100% of the care of your new baby to a complete stranger; that is the scariest thing in the world for a parent," she said. "There was a sense of accomplishment and fulfillment felt at the core of my heart. I helped bring families together, and they were able to take their babies home." For the past 10 years, Thierman has worked in Clinical Informatics where she works with electronic health records. Although she is not at the bedside, she is still making things better for others – specifically nurses and other care providers.
"In this job, I want to make life easier for anybody who has to chart," she said. "If I can make that easier and streamline that, they can give more time back to the patients." This year Thierman has been named a Fab 50 nurse. She said it is a humbling experience. "There are so many nurses out there that really deserve this honor and you go 'well, I'm not that special or different than anybody else,'" she said. "But I am so honored and excited to receive this award." Congratulations, Mary, on being nominated and recognized as one of Tucson's Fab 50 nurses.
Isabel Munoz-Tucker.
Isabel has always wanted to work in health care.
A desire to be directly involved with patients led her to nursing, where she found her passion.It was five years ago when Munoz-Tucker started her career on unit 950 as a new graduate. She worked there, gaining valuable experience, for a year before transferring to the Intensive Care Unit, where she has been the last four years. Through the COVID-19 pandemic, she has worked with the sickest of patients. "I am driven by treating the sickest of the sick," Munoz-Tucker said. "Working in the ICU is intense, especially right now with COVID-19, but seeing patients improve and leave the ICU is so gratifying."
She considers it a privilege to be involved in the care of patients in any capacity.
"It's great to see patients get better, but I also take pride in providing support to patients and their families in instances of comfort care," she said. "Being a nurse is so special because you're there during the best of times and the worst of times."
Nursing has had a huge impact on Munoz-Tucker's life. Through nursing, she has met some of her best friends, and has taken inspiration from others in the profession to pursue higher education to advance her practice.
"Nursing truly is like one big family, and I'm grateful to be a part of it," she said.
Munoz-Tucker's passion for caring for patients has earned her well-deserved recognition. She was named a 2020 Fab 50 nurse.
"It is such an honor to be named a Fab 50 nurse, especially so early in my career," she said. "I know there are hundreds of submissions each year, so to be chosen is incredibly humbling." Congratulations, Isabel, on being nominated and recognized as one of Tucson's Fab 50 nurses.
Kristin Iyescas.
Kristin is a registered nurse at the Tucson Medical Center Cardiac Unit.
She has worked in many areas as a nurse including Newborn Nursery, Intensive Care Unit, Medical and Surgical and Rehabilitation, but she especially enjoys working in the Cardiac Unit.
Iyescas is driven by patient interaction and strives to make each patient feel comfortable.
"The field of nursing is a career full of challenging, fulfilling and humbling experiences," she said. "I am driven by patient interaction and I enjoy being able to provide individualized patient care. I strive to make each patient encounter positive and comforting."
She received her Associates Degree in nursing from Del Mar College in 2017.
Outside of work, Iyescas enjoys spending time with her family, camping and exploring in the mountains. Congratulations, Kristin, on being nominated and recognized as one of Tucson's Fab 50 nurses.
Carly Perez.
Carly is a registered nurse who specializes in hospice care.
She finds solace in having the opportunity to make people comfortable at the end of their lives.
"Death is difficult for many to even speak of and I enjoy educating the community about hospice," she said. "Unfortunately, death is something we all have to deal with."
Perez has worked in Hospice at Tucson Medical Center for eight years.
Prior to that Hospice, Perez worked in various nursing areas including Critical Care, Cardiac and PACU for nine years. She earned her Associates of Science in nursing from Pima Community College.
When she's not working, Perez enjoys renovating her home, running and being outdoors.
"But mostly, I love being a wife and mother," she said. Congratulations, Carly, on being nominated and recognized as one of Tucson's Fab 50 nurses.
David Varela.
David has always enjoyed caring for and serving others.
After working as an EMT for several years, he decided to pursue nursing as a career.
To achieve that goal, he enrolled in the Tucson Medical Center University program, which was taught by Pima Community College faculty at the TMC campus.
Through that program, Varela gained valuable experience and the education he needed to make his dream of becoming a nurse come true. He is especially thankful for the TMC nurse supervisors that led clinical practice – Michael Lally and Stephanie Pitts. The program enabled him to earn his Associate of Science in nursing in 2012 from Pima Community College.
Varela has now been a nurse at TMC for eight years. He currently works inGeropsych. Prior to that, he worked in the PCCU, Emergency Department and Palo Verde.
For Varela, nursing is challenging, but also delicate and rewarding.
"My favorite part of nursing is seeing the patients recover, their smile and peace of mind when they go home, or knowing that they spent their last days in good company, well taken care of, with dignity," Varela said.
He says nursing has made him more open-minded and more experienced in many ways. "Nursing also toughens you up a bit," he said. "Very few things out there scare you." On tough days, Varela's family and his goal of becoming a nurse practitioner keep him going. Varela's compassion and dedication has earned him much deserved recognition. He was named a 2020 Fab 50 nurse.
"I am honored to receive this reward," Varela said. "I appreciate whoever nominated me and the Tucson Fab 50."  Well done David on being nominated and recognized as one of Tucson's Fab 50. nurses
Tucson Nurses Week Foundation recognizes, publicizes and supports the accomplishments, innovations and contributions of nurses to the health of our community by honoring 50 outstanding nurses as the Fabulous 50.