The Tucson Sugar Skulls Coaches Show
The Tucson Sugar Skulls Coaches Show, featuring Head Coach Dixie Wooten and hosted by Justin Spears, takes you behind the coaches mindset every week after each game. Coach Wooten will break down the offense, defense, and his overall thoughts about each game throughout the Indoor Football League (IFL) season.
"Dixie is a proven championship coach and we are extremely fortunate to have the opportunity to bring him to Tucson," said Sugar Skulls Owner Cathy Guy.
Wooten had a 36-8 regular season record in three seasons as head coach of the Iowa Barnstormers. His teams reached the playoffs all three years, winning the 2018 United Bowl championship. It was the first league championship in Barnstormers franchise history. Wooten was named IFL Coach of the Year in the 2017 and 2018 seasons
"I'm excited for the opportunity to be the new head coach and general manager of the Tucson Sugar Skulls," Wooten said. "After only one year, this is one of the premier organizations in the IFL with what we have in place in ownership, the front office and the football operation. We will compete for a championship this year." The Sugar Skulls finished the 2019 regular season with a 7-7 record and were the first expansion franchise to make the playoffs in IFL history. Tucson clinched the playoff berth with a thrilling 55-50 victory over the Quad City Steamwheelers in the last game of the regular season at Tucson Arena. The Sugar Skulls lost to Sioux Falls, 50-47, in the first round of the playoffs.
Hear The Tucson Sugar Skulls Coaches Show during the season every Tuesday from 3-4pm on ESPN Tucson 1490 AM and 104.9 FM, and on your HD Radio at 94.9 FM HD Channel 4.
Owners Ali Farhang and Kevin Guy, Head Coach Dixie Wooten,
and Host Justin Spears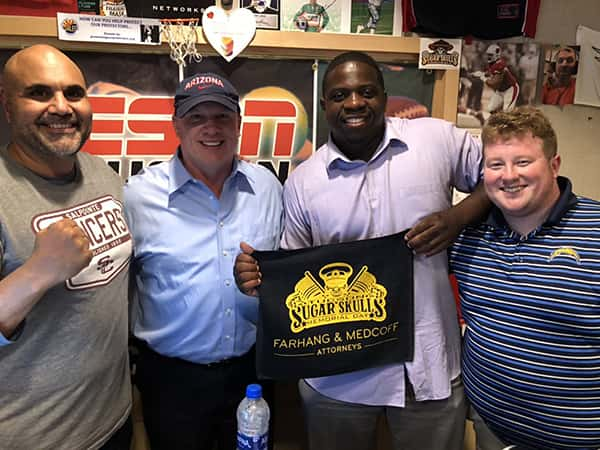 Introducing Head Coach Dixie Wooten
Tucson Sugar Skulls