Serving the Tucson community, these programs air weekly:
6:30 – Radio Health Journal
7:00 – Lifestyle Tucson
7:30 – The Business of…
Radio Health Journal is an energetic, entertaining, highly-produced, contemporary radio magazine with two major stories weekly. Each week, Radio Health Journal features interviews with guests that have expertise and real-word experience regarding current issues in health and medicine. To learn more about Radio Health Journal, click here.
Lifestyle Tucson is a public affairs program from Arizona Lotus Corp. that airs every Sunday morning. The show has various topics that reflect the interests relevant to the Tucson community. The program features guests from the community, mostly from non-profit organizations with tax exempt status. Some programs cover local events of public interest as they pertain to the Tucson and Southern Arizona communities.
For inquiries on Public Service Announcements and opportunities to be a guest on LifeStyle Tucson, contact us @:
Public Affairs/PSA
Arizona Lotus Corp
publicaffairs@azlotus.com
The Business of…The Business of… Join us Sunday Mornings at 7:30 when the Tucson Metro Chamber discusses a variety of topics with Chamber members from a business perspective. Past episodes have included the business of travel, medicinal mushrooms, sustainable fashion, workforce development, tuition reimbursement, commercial design, bread, space travel and much more! For more, visit https://tucsonchamber.org/thebusinessof or email thebusinessof@tucsonchamber.org.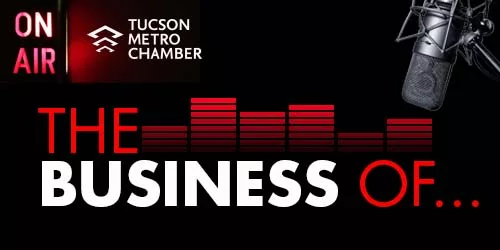 Request Line
520-719-1490