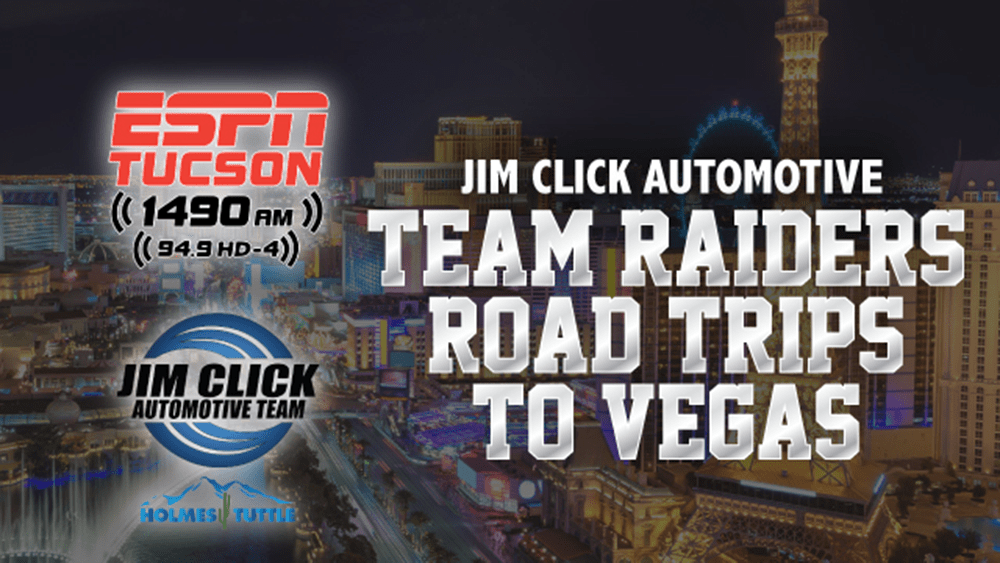 The Jim Click Automotive Team Presents the Raiders Road Trips to Vegas
All Season, we are giving you a chance to see the Raiders at Allegiant Stadium in Las Vegas!
Winners will also get a 2 night Hotel Stay, and a hundred bucks for travel expenses.
Listen for the Raiders Sounder, and Keyword. When you hear it, text it to 95938 for your chance to win!
The Raiders Road Trips to Vegas, brought to you by the Jim Click Automotive Team, your career startsHERE
Brought to you in part by 1 By 1 Roof & Paint. Visit 1by1roof.com and get a FREE roof inspection today.
CHECK OUT THE GAMES YOU HAVE A CHANCE TO WIN TRIPS FOR
Raiders v New England Patriots October 15th, 2023 (contest dates 10/2 – 10/6)
Raiders v New York Giants November 5th, 2023 (contest dates 10/19 – 10/6)
Raiders v Kansas City Chiefs November 26th (contest dates 11/6 – 11/10)
Raiders v LA Chargers December 14th Thursday Night Football (contest dates 11/27 – 12/1)
Raiders v Denver Broncos January 7th, 2024 (contest dates 12/11 – 12/15)